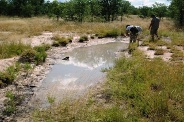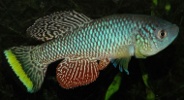 Ageing & its life history consequences (Wordle)
A recent interest of our lab is in the evolution of rapid ageing and its consequences in annual killifish. These fish have an extraordinary life history - they survive annual desiccation of their habitats (pools in African and South American savannas) as diapaused embryos in dessication-resistant eggs. After their pool is again filled with water, the fish hatch and grow extremely rapidly, reaching sexual maturity in as few as 17 days. They do not compromise their rapid development with paedogenesis and have typical adult phenotypes.
We are particularly interested in three Nothobranchius species complexes in Mozambique where they co-occur across a strong gradient in aridity, with populations of each three species living in habitats lasting 2-11 months. We combine field and experimental studies to understand their ecology, genetic structure, and developmental trade-offs. We have also started to work on Neotropical annual killifish, where the same life history has evolved independently.